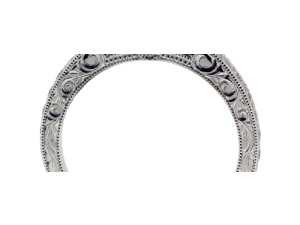 Like everything, over time, fine jewelry follows trends. These specific stylizations can help you identify the age of your heirloom piece, or can even help you identify the style you'd like to have for your next purchase. The following time periods have their own special jewelry trends:
Georgian: Georgian-era jewelry is fairly hard to come by as much of it has been dismantled over the years. Therefore, it represents some of the most sought-after estate jewelry. Lots of Georgian jewelry features hand-cut stones, and gold and rose-gold settings.

Victorian: During the Late Victorian or Aesthetic period, jewelers used diamonds and feminine, bright gemstones such as sapphire, peridot, and spinel. Star and crescent designs as well as elaborate hat pins were also popular.

Art Deco/Nouveau: During this era, platinum was highly prized and used in jewelry. Gem cutters learned how to achieve brilliance from faceted gems in new and innovative ways resulting in new cuts and shapes that could be arranged in mosaic-like designs. Various diamond cuts were arranged in patterns according to the radiance, luminosity and reflective qualities needed for the design.

Retro: Hollywood and all its glamour became the influence of Retro jewelry: it is identifiable by the use of bright, highly polished yellow, rose, and green gold. The jewelry is big & bold. Large emerald cut semi-precious gemstones were the star of this era, namely amethyst, aquamarine, and citrine. These large stones were often accented by small diamonds and sapphires. Due to the beginning of World War II in 1941, platinum became scare again and gold was the metal of choice.

Modern: Jewelry from the 1950's reflects American's wealth by featuring an abundance of gemstones set in flashy, dramatic designs, with a focus once again on diamonds. In 1948, DeBeers unveiled their still famous ad campaign "Diamonds Are Forever", prompting an increased demand for using diamonds in all types of jewelry, specifically engagement rings. Designs were now more light and textural, as opposed to the solid, high polished look of Retro jewelry. Engraved finishes and braided rope accents were popular design elements. Platinum once again became the metal of choice used for diamond jewelry, which still remains popular today.
Have you inherited a vintage piece or do you love estate jewelry? Talk to us about our reproduction pieces or how we can update your existing collection.